It is in a house, "The shelter ROLANGE" you will have a peaceful stay, close to historic, cultural and recreational sites.
Indeed, many historical sites around (20 to 60km) this cottage. You will also find nearby places of recreation (Lake Madine, the Zoo AMNEVILLE, Park Walygator, etc ...)
Office tourisme
Classement trois étoiles. 
Cottage France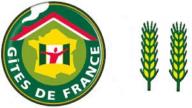 Cet abri est classé :

au "Gîtes de France" sous n° H54G001245 ex 54G277  : 2 épis




% %
ACCOMMODATION LODGING FISHING
We also referenced "Lodging Fishing"
NOTE DE CLASSIFICATION  BOOKING 2017
NORTH side house
Abri côté propriété sous la neige.
Le gîte sous la neige
WELCOME to the house ABRI ROLANGE
You will find in this house all the comforts .
INTERNET WEP code and phone
A dishwasher
2 gas hobs
  - A grill cheese sandwich

Induction cooking plate
A pressure cooker
Toaster
An oven
Hairdryer
Microwave oven grill
A washer dryer
A raclette
Irons and table
A hood
A fryer
Fridge freezer
Kettle
A mixer
A television in the living room
DVD
A cassette player Video
GIVE US your wishes REGARDING YOUR STAY
At the end of your stay, I ask you to take a few minutes to complete this survey. Thank you not advance.
Stay
We are listening to your comments about your stay.
Travaux
Nous vous informons que des travaux d'aménagement vont avoir lieu au courant de cette année 2018.
Map Village ESSEY AND MAIZERAIS


The location is circled in red.

6 chemin de Ville
54470 ESSEY AND MAIZERAIS
Doctors and shops nearby.

La boulangerie  a été remplacée en 2017 par une pizzeria.  Un dépôt de pain est installé au restaurant LA CERISE SUR LE GATEAU, à l'angle de la place.
Un CARREFOUR MARKET est implanté  à THIAUCOURT REGNEVILLE (54)à 7 km  et d'autres commerces  à PONT A MOUSSON (54) à 21km.
Fabrique de Madeleines à  COMMERCY (55)
Un cabinet médical, une pharmacie, une boucherie, une poste,  sont installés à THIAUCOURT REGNIEVILLE (54) à 7 km.
L'hôpital, la gare SNCF  sont situés  à 21 km à PONT A MOUSSON (54)